Zinzino Viva+: Healthy Nervous System Support
Enhance nervous system and increase feelings of well-being
Relieve stress and improve mood
Zinzino Viva+
Natural supplement designed to relieve stress and improve mood
Enhance healthy nervous system support *


What is Zinzino Viva+
Zinzino Viva+ is a natural dietary supplement that could improve mood and your general well-being in several ways. Viva+ helps to relieve ordinary stress and promotes a positive mood. Zinzino Viva+ can lead to the healthy nervous system function and can improve the body's immune system.
Zinzino Viva+ combines Affron® a patented extract of saffron with key nutrients for a mental well-being including five B-Vitamins, Iodine, and pinch of Vitamin C. These ingredients may helps support normal functioning of the healthy nervous system and most people have better quality of sleep.
Healthy psychological function, concentration, learning, memory and reasoning and also restore alertness when feeling drowsy or fatigued. Once you have left stress, low mood and tiredness behind most people sleep better. They relax well and have more energy as well as body's healthy nervous system function.
Back to 11th century, saffron was recognized as a powerful intervention for mood disorders. Today, Affrom® has three clinical trials proving effectiveness in lifting mood, lowering anxiety and the relieving stress. It is grown in Spain, produced in Norway and consumed by happy people all over the world.
With Zinzino Viva+ you can look forward to a better quality of sleep, you will be relaxed and feel an inner peace. For stress, anxiety or fatigue try Viva+. It is nature's own solution and it may just change your world. Thanks to Zinzino Viva+ you can relieve ordinary stress, boost the mood and support healthy nervous system.
Best Healthy Nervous System Supplement Benefits
Zinzino Viva+ – Safron Extract Combined With Vitamins


Viva+ is a natural dietary supplement combining affron®, an extract of pure premium quality saffron stigmas (Crocus sativus L) from Spain,

five B-vitamins, iodine and

vitamin C

. All the ingredients benefit our general wellbeing, and together they form a gentle yet powerful alliance that

could improve your life

in several ways. People have

better quality of sleep

and that leads to better

functioning of the nervous system

. *

Safron
Saffron

is one of the most expensive spices in the world, because most of the harvesting and processing work is done by hand. Saffron normally needs to be pre-treated before use with heat or radiation due to the presence of microorganisms, including pathogens such as E. coli. These treatments reduce microbial contamination, but they also lower the content of bioactive components, and the quality of the product. *

Affron® the New Generation Safron Extract
The process starts with the highest quality Spanish saffron stigmas. affron® is extracted using a proprietary high-tech process that eliminates microbiological contamination and improves the profile of bioactive components. affron®is genetically 100% DNA certified as Crocus sativus L. Affrom® has three clinical trials proving effectiveness in lifting mood, lowering anxiety and the relieving stress. *


Clinical Trials
affron® has been proven in 6 clinical trials to be effective and safe, with no side effects when consumed in recommended dosages. These results are in accordance with the larger body of evidence consisting of clinical trials already performed with saffron, and hundreds of other references in the scientific literature. Ziznino Viva+ thanks to saffron can improve mood and relieve ordinary stress *
Zinzino Viva+ Healthy Nervous System Facts
Zinzino Viva+ Ingredients:
Bulking agents (beta-cyclodextrin, microcrystalline cellulose), saffron (Crocus sativus L) extract*, anti-caking agents (tricalcium phosphate, magnesium salts of fatty acids), vitamin C, folic acid, niacin, pantothenic acid, vitamin B12, potassium iodine, biotin, *affron® – patented extract

Suggested Use:

Take 2 tablets daily. Do not exceed daily dose.
You can take Viva+ in the morning, afternoon or at night, depending on your requirements.
You can take 2 tablets at the same time or at different times. It is generally better to take them with food.
Suitable for adults and children above 12 years.

Storage:
Dry and at room temperature. Keep out of reach for children. The shelf life is 3 years if stored in an unopened packaging.

Package:
Each box contains 60 tablets, total net weight 18 g.

Notice:
A doctor or nurse should be consulted before taking the product if you are; trying to become pregnant, pregnant, nursing or have a medical condition. Saffron extract is a safe ingredient but in large doses (see above) it may cause uterine contractions leading to miscarriage.
Viva+ may be taken for extended periods of time, or discontinued at any time, without problems.
6 Beneficial Foods For Your Healthy Nervous System
Cacao
L-tryptophan is a neurotransmitter responsible for calming the mind, and it just so happens to be found in cacao and dark chocolate.

Bananas
Ever wonder why athletes eat bananas before a big game? Potassium is a crucial electrolyte that helps keep our bodies (and brain) hydrated.

Nuts
Almonds and cashews are rich in magnesium and brazil nuts are said to have one of nature s richest source of selenium – an unmatched feat when it comes to relaxing the nervous system.

Garlic
Not only does garlic contain plenty of antioxidants, it can help prevent aging of the mind and keep your brain sharper longer.

Spinach
High in folate as well as Vitamin B and B6, dark leafy greens like spinach help break down homocysteines – a chemical that can lead to dementia.
Zinzino Viva+: Healthy Nervous System Support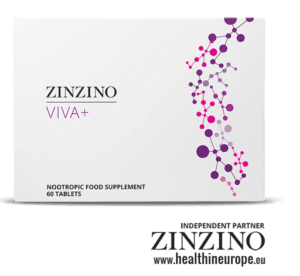 Zinzino Viva+: Natural supplement designed to relieve stress and improve mood. Enhance healthy nervous system support & feelings of well-being
Product SKU: ZVIVA
Product Brand: Zinzino
Product Currency: EUR
Product Price: 21
Price Valid Until: 2022-01-01
Product In-Stock: InStock
Zinzino Viva+: Healthy Nervous System Support
Zinzino Viva+: Natural supplement designed to relieve stress and improve mood. Enhance healthy nervous system support & feelings of well-being
https://youtube.com/watch?v=FHxUk2MFHs8%3Fwmode%3Dtransparent%26autoplay%3D0
* These results may not reflect the results of all consumers of Zinzino products. The results are not guaranteed! Consult your physician before using any product.
These statements have not been evaluated by the EFSA. This product is not intended to diagnose, treat, cure or prevent any disease.