What is
Zinzino ZinoGene+
Natural Cell Division Support
Zinzino ZinoGene+ is a revolutionary food supplement that supports DNA synthesis and cell division, thereby protecting cells from oxidative stress. With ZinoGene+, you are giving your cells the power they need to function properly, helping you be and stay healthy!
Whether we like it or not, as we age, we accumulate dysfunctional cells in our bodies and experience a sharp decline in regeneration, influenced by what we consume. With Zinzino ZinoGene+, you can effectively combat these processes with an all-natural supplement that gives your body the fuel it needs!
How Is This Possible With Zinzino ZinoGene?
ZinoGene+ is like no other supplement. It is based on a formulation complex of fucoidans, which includes a natural polysaccharide from polyphenols, seaweed, zinc, and vitamin C, all supporting biological DNA synthesis and efficient cell division. ZinoGene's natural body clean offers game-changing results!
How Can Zinzino ZinoGene Help?
Promotes healthy cell division

Boosts DNA synthesis and protects your cells from oxidative stress

All aimed at promoting optimal body function
The food we eat and the environmental hazards surrounding us can all negatively affect our bodies. It is crucial to support and protect your body's core structures and cells from harm. Now you can do so all-naturally with ZinoGene+!
Zinzino ZinoGene+
Benefits
Natural supplement designed to cell division support and
protection of cells from oxidative stress *
Enhances DNA synthesis *

Supports cell division *

Protects cells from oxidative stress *
Natural source of Vitamin C

Natural source of Zinc

Cleansing the body of damaged cells *
Zinzino ZinoGene+
Supplement Facts
Suggested dosage for Zinzino Zinogene+:
Take 1 table daily. Do not exceed daily dose.
You can take Zinogene+ in the morning or afternoon, depending on your requirements.
Suitable for adults.
Storage:
Dry and at room temperature. Keep out of reach for children.
Package:
Each box contains 30 tablets.
Notice:
A medical professional should be consulted before taking the product if you are pregnant, nursing or have a medical condition and/or before giving to children.
Zinzino Zinogene+ Ingredients:
Bulking agent (sorbitol), curcumin extract (Curcuma longa)*, blend of quercetin (from pagoda tree (Sophora japonica)*, from onion extract (Allium cepa)* and Quercefit™ phospholipid complex (Sophora japonica)), fucoidan wakame extract (Undaria Pinnatifida)*, vitamin C from acerola extract (Malpighia glabra)*, blend of fisetin (from smoke tree extract (Cotinus coggygria)* and strawberry extract (Fragaria ananassa Duchesne))*, anti-caking agents (stearic acid, rice concentrate, pregelatinzed starch from maize), zinc (zinc bisglycinate chelate)*, black pepper extract as Bioperine® (Piper nigrum)*. *Non-EU origin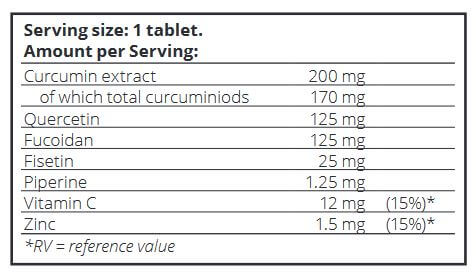 Curcumin
There are many different curcumin extracts on the market, but there is a considerable variance when it comes to their bioavailability, and as such they differ a lot when it comes to how much of the ingredient wields an active effect. The curcumin extract that makes it into our products is very carefully selected and provides a full spectrum of curcuminoids. We have chosen the global award-winning ingredient HydroCurc®, which is the world´s most bioavailable curcumin. This means enhanced absorption, and consequently improved efficacy and functionality.

Quercetin
Quercetin is a natural pigment present in many fruits, vegetables and grains. It has antioxidant properties and belongs to a subgroup of polyphenols called flavonoids. It is estimated that the average person consumes 10–100 mg of it daily through food sources such as onions, apples, capers, berries, broccoli, citrus fruits, cherries, coffee, grapes, green tea, and red wine.

Important to note, is that the amount of quercetin in foods may depend on the conditions in which the food was grown. As such, in order to optimize bioavailability and functionality, we have made our own proprietary blend of quercetin using three different ingredients from two different plant sources: the pagoda tree, and onions.

Fucoidans
The nutritional properties of fucoidans are nothing new. Historically, fucoidan-containing seaweed have been used in ancient traditions for thousands of years. In fact, the earliest records of its use are dated back to 12000BC, where archaeological digs at Monte Verde in Chile have uncovered evidence of their use.

Fisetin
This bioflavanoid has antioxidant properties, and although it is present in a variety of fruits and vegetables such as strawberries, apples, persimmons, grapes, onions, kiwi and kale, the concentration is low. The average daily intake of fisetin from various vegetables sources is estimated to be around 0.4 mg. In comparison, only 1 ZinoGene+ tablet provides 25 mg

Piperine
Piperine is extracted from the plant when the berries changing colour, from green to red, during the ripening phase. The timing of the harvest is a vital aspect of ensuring the peak antioxidant profile of the piperine. In ZinoGene+, we have used the patented extract BioPerine®, standardized to minimum 95% Piperine and used as a bioavailable enhancer for over 20 years.
Zinzino Zinogene+ Natural Cell Division Support (Nov 2022)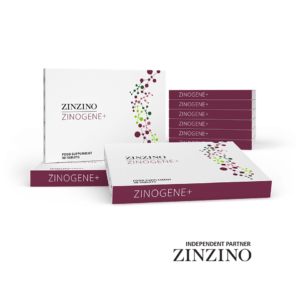 Zinzino ZinoGene+ is a revolutionary food supplement that supports DNA synthesis and cell division, thereby protecting cells from oxidative stress.
Product SKU: Zinogene+
Product Brand: Zinzino
Product Currency: Eur
Product Price: 47
Price Valid Until: 2024-01-01
Product In-Stock: InStock
* These results may not reflect the results of all consumers of Zinzino products. The results are not guaranteed! Consult your physician before using any product.
These statements have not been evaluated by the EFSA. This product is not intended to diagnose, treat, cure or prevent any disease.