Improve the body's immune system, muscles and bones
Zinzino Xtend+ is an advanced immune supplement containing 23 essential vitamins and minerals, micronutrients, and 1-3, 1-6 beta glucans that protect and renew every single one of your body's cells. With Xtend+, you have the perfect supplementation to a complete health protocol!
Getting all of the nutrients and minerals we need daily is practically impossible with the busy lifestyles we lead. To intake an identical amount of the essential nutrients and minerals that Xtend+ provides, you would need to consume over 3000 calories of nutrient-dense foods EVERY SINGLE DAY.
Zinzino Xtend+ is an all-natural supplement to complement your food intake and provide a full nutrient support program.
How Is This Possible With Zinzino Xtend?
Zinzino Xtend+ contains essential vitamins and minerals, such as vitamins B, C, D, K, magnesium, copper, manganese, and zinc, which work around the clock to boost your immune system and provide an efficient metabolism. Zinzino Xtend+ is the perfect all-natural way to support strong bones and joints, minus any side effects!
How Can Zinzino Xtend+ Help?
Experience an energy boost!

Improve the function of your bones and joints

Strengthens your immune system

Provides various nutrients and minerals required for effective tissue growth and repair!
Natural health supplement of essential vitamins and minerals.
Improve the body's immune system, muscles and bones *
Improves bones & muscle function *

Enjoy more body energy *

Enhance immune system *

Natural source of 1-3, 1-6 beta glucans
Source of 23 Essential Vitamins and Minerals *

Protect and renew every single one of your body's cells *

Source of vitamin D and B-complex *

145 approved health benefits (European Food Safety Authority)
Zinzino Xtend+
Supplement Facts
Zinzino Xtend+ Important Minerals and Vitamins Suggested Use:
Take 2 – 4 tablets daily with foods.
You can take up to 2 tablets at the same time or at different times. It is generally better to take them with food.
Suitable for adults and children above 12 years.
Do not exceed the daily dose.
Storage:
Dry and at room temperature. Keep out of reach for children. The shelf life is 3 years if stored in an unopened packaging.
Package:
Each box contains 60 tablets, total net weight 45 g.
Notice:
Food supplements are not intended as a substitute for a balanced and varied diet. Accidental overdose of iron-containing products is a leading cause of fatal poisoning in children under 6.
Keep this product out of the reach of children. In case of accidental overdose, call a doctor or poison control immediately. A doctor should be consulted before pregnant women or children takes Xtend+.
Xtend+ Supplement Ingredients:
Bulking agents (beta cyclodextrin, microcrystalline cellulose, tricalcium phosphate), olive leaf extract (Olea europea folia), magnesium hydroxide, algae (Ascophyllum nodosum), 1,3-1,6 beta-glucans* (from Saccharomyces cerevisiae), turmeric root extract (Curcuma longa), Vitamin C, Broccoli extract (Brassica oleracea), zinc bisglycinate, Vitamin E – mixed tocopherols and tocotrienols, green tea leaf extract (Camellia sinensis), tomato fruit extract (Solanom lycopersicum), Iron bisclyinat, anti-caking agents (silicon dioxide, magnesium salts of fatty acids, Polyvinylpyrrolidone), marigold flower extract (Tagetes erecta), folic acid, Vitamin K2, sodium selenate, niacinamide, Coenzyme Q10, sodium molybdenum, manganese bisglycinate, micro-algae extract (Dunaliella salina), copper bisglycinate, Pantothenic acid, Vitamin B12, Vitamin D3, chromium chloride, Vitamin B6, thiamine hydrochloride, riboflavin, Vitamin K1, potassium iodine, biotin. Beta cyclodextrin, Microcrystalline cellulose, Silicon dioxide, Calcium phosphate, Magnesium salts of fatty acids.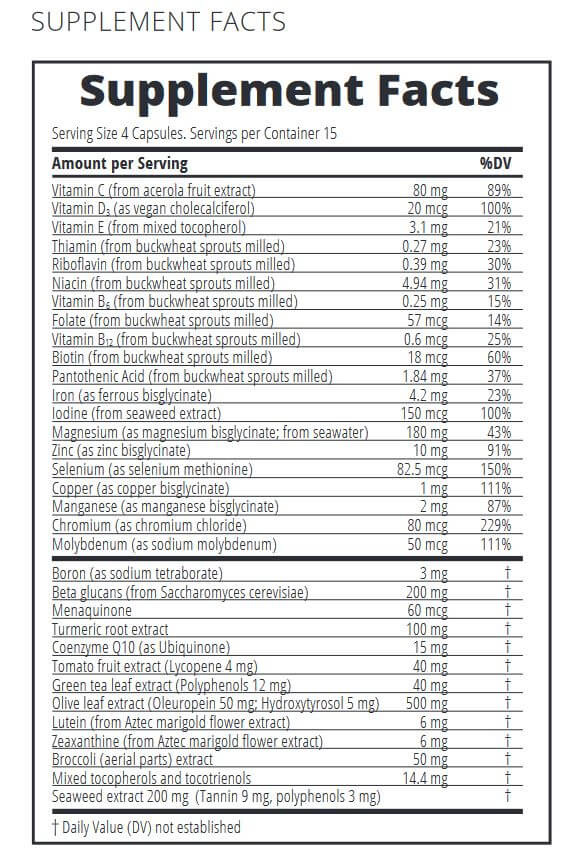 Enjoy More Energy:
The B vitamins (B1-B12) and also a number of important minerals in Xtend+ such as copper, magnesium, iodine and manganese have health claims stating that they are important for a normal energy-yielding metabolism *.

Enhance your bone and joint function:
Xtend+ contains several vitamins and minerals with approved health claims related to bones and muscles. It is also good source of Vitamin D, source of vitamin C, source of vitamin K, source of magnesium and source of manganese and zinc. These natural essential vitamins and minerals are also important to the bones and muscles health.

Boost Your Immune System:
Xtend+ contains 1,3/1,6 beta glucans. This nutrient, derived from the cell walls of a highly purified, proprietary strain of Baker's yeast, has been clinically proven to enhance the immune system *

In addition to the natural essential minerals and vitamins in this supplement, it also contains XANTHOPHYLLS, Carotenoids and a group of poly-phenols from a cornucopia of spices, fruit and vegetables. To get the similar amount of entire these nutrients from food, you would have to eat more than 3k calories of the most nutrient dense foods each day.
Zinzino Xtend+ Essential Vitamins and Minerals (Oct 2022)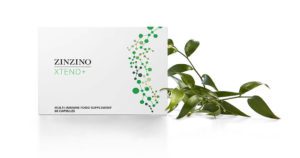 Zinzino Xtend+: The best Natural health supplement of essential vitamins and minerals available today. Nutrient support program for your wellbeing
Product SKU: XTEND
Product Brand: Zinzino
Product Currency: EUR
Product Price: 37
Price Valid Until: 2024-01-01
Product In-Stock: InStock
* These results may not reflect the results of all consumers of Zinzino products. The results are not guaranteed! Consult your physician before using any product.
These statements have not been evaluated by the EFSA. This product is not intended to diagnose, treat, cure or prevent any disease.