If you have already tried Velovita such as Brān, Zlēm, Plôs or Uüth and fell in love with them, why not take advantage of the opportunity to get Velovita Products for free every month?
Getting free Velovita Products is easier than you think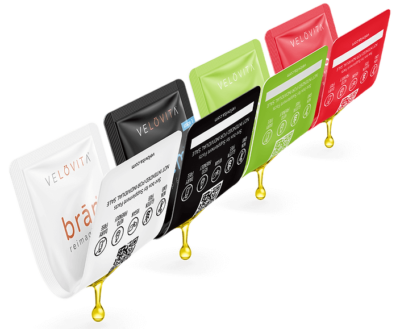 Step 1: Create a customer account
If you have already ordered Velovita products, it is more than likely that you have created your customer account. If you don't have one yet, order the product according to your preferences and your customer account will be created automatically during the ordering process. It's easy and only takes a few minutes.
Step 2: Sign up for a monthly shipment of Velovita V-Fill
Visit your customer account, Activate the monthly shipment of products in your customer account in the V-Fill section. You can choose any product or even more products. By activating V-Fill, you will automatically receive a 10% discount on your orders.
Step 3: Refer only three other customers who also activate V-Fill monthly shipping
As a customer, you can use your ID to refer other customers. You can find your ID or referral link in your customer account. If you have an activated V-Fill program and at the same time you have at least 3 other customers who also have an activated V-Fill program, you get a free package of your chosen product every month.
That is all. Simple, right? Sharing your experiences or small Velovita snaps is a natural way how to find new customers and get Velovita Products for free.
Your questions about V-Fill
What products can I choose for my V-Fill?
You can choose any product you want including all Velovita new products.
How many boxes can I enter in my V-Fill?
You can choose any quantity as you want
Are weight loss products also available on a monthly basis?
Yes, to your V-Fill you can also include all Velovita weight loss products
Can I cancel my V-Fill?
Yes, you can change or cancel the V-Fill program at any time
Where can I make changes of my monthly shipment of Velovita V-Fill?
Please, visit Velovita login page and log in to your Account and visit V-Fill section. There you can adjust the settings of your monthly shipment, including the quantity and products type.
How do I find out which customer is on the monthly order?
In your Velovita account, visit the Reports > V-Fill Summary section. There you can see list of your members on V-Fill, status, products quantity and more useful information. When you visit

My Network > Referred Customers you can also see the last and the next V-Fill date of the proper customer

When a new order is created?
Orders are created every 4 weeks on the day you set V-Fill.
What is V-Fill
V-Fill is an optional, automatic monthly recurring order that can be enabled by Members, Customers or Affiliates. It has many benefits such as providing a 10% product discount on every V-Fill order, as well as unlocking many other benefits for you.
How often does the V-fill is processed?
Once a Member has enabled the V-Fill option, it is processed every 4 weeks (unless the Unconditional V-Fill is disabled and you or a referred customer places an order). You can consult your next V-Fill purchase date over your Dashboard, located next to your Replicated site link or, through your V-fill feature.
What happens if my V-Fill is not processed?
If your V-Fill is enabled and it is not processed (normally due to payment issues or products not selected), you have 2 more attempts to make any correction. This is how it works:Once the V-Fill is enabled, the first V-Fill order will be processed five (5) days before your activation period ends.
In case of failure, after the first attempt the system will run 2 more attempts to process your V-Fill (First one 5 days before, the second one 3 days before and the last one 1 day before your activation time ends).
An email notification is sent every time the V-Fill fails to be processed.
What does Unconditional V-Fill mean?
When this option is enabled, your activation time will NOT be extended, when a referred purchase (guest, customer or affiliate) is placed on the system and your V-fill order will ship on the date listed regardless, and your activation period will be extended then.
Conclusion
To be healthy, strengthened and still save money? With this simple V-Fill program it is possible. Additional,  you can get any new future Velovita products for free. Just share products with others.
Velovita Products Order
Meet important needs in everyday life in a unique and comfortable way.
Everyone has the right to a healthy and financially secure life.
Order Velovita Products Now