Let's put it simply. Velovita Snaps are small portable packaging products that are ready for immediate use. Just bend them slightly and click.  At this point, a serum is released from the pack, which you can squeeze directly into your mouth, or you can squeeze it into a cup and mix it with your favorite beverage
What is Velovita snaps?
Velovita snaps are literally the smallest portable and compact versions of nootropics from Velovita. Products such as Brān, Zlēm, Uüth and Plôs are packaged in these small portable versions.
Each snap contains a nootropic serum in a 15ml volume. There are many nootropic supplements out there, but these are different. They are absorbed directly under the tongue, making the result come very quickly.
Product packaging
The products come in small boxes, which each contain 25 single-serve servings (snaps) ready for immediate use. Alternatively, throw a few on your handbag or in your bag and you can enjoy their benefits on the go. Or you can try the V-Pack, which contains only 5 snaps of the product and so is effective for those who just want to try the products for now.
Product shipping
The delivery of these products is really fast. You usually have them at home within 2-3 days, in every country where the company operates. In addition, shipping and packaging is completely free and it doesn't matter how many packages you order.
How much Velovita snaps costs?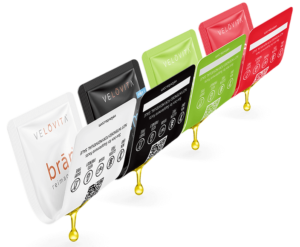 The final price depends on the product you choose:
1 box of Brān contains 25 snaps and it cost $69,95

One snap of

Brān

cost $2,79

1 box of Zlēm contains 25 snaps and it cost $79,95

One snap of Zlēm cost $3,19

1 box of Uüth contains 25 snaps and it cost $99,95

One snap of Uüth cost $3,99

1 box of Plôs contains 25 snaps and it cost $99,95

One snap of Plôs cost $3,99
The price of boxes may change over time. Therefore, please refer to the current price list of products.
Can I get a discount on these Snaps?
The easiest way to get products cheaper is to use a discount coupon. Thanks to him, you will get a 25% discount on up to 4 boxes. You can get the code from any independent partner Velovita.
Another way to get cheaper products is through partner/distributor membership. Every partner is entitled to a discount on their purchase:
Discount Pricing
BOXES / DISCOUNT
01 – 10%
05 – 15%
10 – 20%
20 – 25%
40 – 30%
Velovita snaps ingredients
The composition of the products consists of purely natural substances. Each product has its own and specific composition, which is described on the product pages. If you wish to see the detailed composition, please visit the product page of the product you are interested in. Full list of all Velovita products with the ingredients list you can find here.
Do snaps work for weight loss?
Yes and no. It is important to choose the right product. Velovita Zlēm snaps work best for weight loss. This is due to the fact that they "induce" the body to feel like you are in the gym and burning excess fat while you sleep.
Simply take it 30 minutes before bedtime and enjoy deep, restful sleep while your body gets rid of unwanted body fat *.
A more detailed description of how this process works can be found in our article.
Where to get Velovita snaps?
To order them, visit the proper product page and choose from the relevant options. Or simply, start your order here.
Note
Would you like to share your experiences and how do you take Velovita snaps with others? Super, just leave the comments below or post in our community forum.