Before you start taking the products, you should know the Velovita ingredients. Each ingredient is carefully selected by experts and scientists so that together they can have an even better, synergistic effect.
Velovita Zlēm Ingredients
Zlēm contains these ingredients to help you boost your immune system, improve sleep, and reduce weight in a balanced way while you sleep.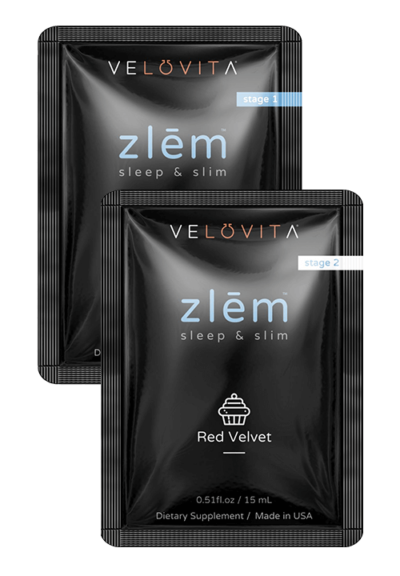 Apple Cider Vinegar – lowers blood sugar, lowers cholesterol, contributes to healthy blood vessels, lowers blood pressure, reduces weight, boosts immunity
Ashwagandha Root Extract – helps with concentration, reduces fatigue, relieves stress, strengthens the mind, helps with falling asleep, anti-stress and antioxidant
Beet Root Powder – contributes to a healthy heart and blood pressure, improves mood, protects and supports the liver, improves digestion, helps with weight loss
Black Pepper Extract – has very beneficial properties for the digestive system, helps relieve gas and colic pain, relieves colds and coughs
Cranberry Fruit Powder – has a preventive effect on the urinary tract, protects the intestines and stomach, offers immune support and reduction of stomach ulcers
Enzyme Blend (Amylase, Cellulase, Invertase, Papain, Protease, Lactase, Bromelain, Lipase, Maltase) –
GABA (Gamma Aminobutyric Acid) – improves mood, deepens sleep, aids in weight loss, improves digestion and relieves stress
Ginger Root Powder – supports immunity, improves digestion, prevents stomach ulcers, maintains a healthy brain, aids in weight loss
Green Tea (leaf) Extract – improves liver and brain function. Helps detoxify the body and helps maintain a healthy weight
Hops Flower Extract – has a calming effect on the nervous system for insomnia, is good for migraines, supports digestive processes
L-Citrulline – lowers blood pressure, also supports the activity of cells around blood vessels and acts as a natural nitric oxide booster
Lemon Balm Extract – relieves anxiety and stress, helps with insomnia, improves congitive abilities, attention and concentration
L-Theanine – promotes focus and concentration, promotes feelings of calm and well-being
Marshmallow Root Extract – reduces inflammation and has a calming effect on the body, relieves digestive disorders, kidney and urinary tract infections
Milk Thistle Extract – promotes liver health, reduces high cholesterol, helps prevent gallbladder and kidney stones
MitoBurn™ (L-B-Aminoisobutyric Acid) – Helps for a slimmer and better physique
Organic Artichoke Extract – has great nutritional value, helps increase liver detoxification function, lowers cholesterol, improves metabolism and aids in digestion
Organic Dandelion Root Extract – cleanses the liver, promotes the growth of healthy bacteria in the gastrointestinal tract, aids digestion
Papain (Carica Papaya Extract) – helps to burn off body fat, improves digestion
Passion Flower Extract – used to treat anxiety, insomnia and nervous disorders
Senna Leaf Extract – helps with weight loss, cleanses the colon, promotes digestive health
Velovita Zlēm Order
Restful sleep while your body gets rid of unwanted body fat
Fall Asleep Faster & Loss Weight
Order Zlēm Now
Velovita Brān Ingredients
Brān contains these ingredients to enhance your mood, memory and feelings of calmness. Only one snap and you can feel the results instantly.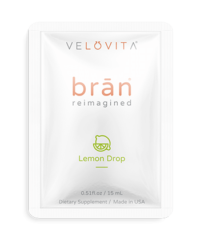 Vitamin B12 – is important in RNA and DNA synthesis, helps metabolize sugars, fats and proteins, helps prevent nerve damage, recharges vital energy
Vitamin B6 – supports brain development, improves memory, supports the joint and skeletal system, helps improve mood
Green Coffee Bean Extract (Natural Caffeine) – supports brain function, has anti-inflammatory and anti-tumor effects, boosts energy
Niacin – promotes cell division and growth, relieves symptoms of fatigue and tiredness, improves mental stamina
PEA (Phenylethylamine) – anti-inflammatory
DL-Phenylalanine – improves memory, stress resistance, mental and sexual performance
L-Theanine – promotes focus and concentration, promotes feelings of calm and well-being
GABA (Gamma Aminobutyric Acid) – improves mood, deepens sleep, aids weight loss, improves digestion and relieves stress
Alpha GPC – is key for brain functioning and health, cognitive function. It plays critical roles in concentration, learning, memory, but also in sleep quality.
Uridine-5-Monophosphoric Acid Disodium Salt –
Organic Agave – contains a high proportion of vitamins and minerals, supports immunity, aids digestion, reduces high cholesterol
Sunflower Lecithin – essential building block of the brain and blood vessels, necessary for proper cell function, helps maintain proper liver function
Velovita Brān Order
Enhance your mood, memory and feelings of calmness
Order Brān Now
Velovita Uüth Ingredients
Uüth contains these ingredients to improve your skin's elasticity and firmness while reducing wrinkles and fine lines. You can simple reverse your age.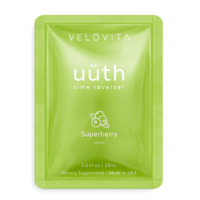 Hydrolyzed Beef Collagen – reduces joint pain, improves gut health, promotes youthful skin and improves skin elasticity, protects against premature skin aging
Aronia Berry Juice Powder – Purifies and heals the liver and kidneys, lowers blood cholesterol and blood pressure, Strengthens the IMMUNE SYSTEM, supports brain function, improves memory and concentration, purifies the lymphatic system, promotes blood vessel strength, reduces inflammation, stomach problems, rich source of minerals (iron, calcium, magnesium, phosphorus, potassium, zinc, sodium, manganese, iodine and boron), vitamins (A, B, C, E, K and P) and tannins, improves skin diseases (eczema, acne, stretch marks, healing of wounds and burns), improves skin elasticity (collagen) and slows down the aging process
S7TM (Green Coee Bean Extract, Green Tea Extract, Turmeric Extract, Tart Cherry, Blueberry, Broccoli, Kale),
NMN (beta-nicotinamide mononucleotide) – youth molecule, protects cells from damage, boosts energy, improves metabolism, regenerates cells, slows aging, fights chronic fatigue, promotes DNA repair, promotes endurance and strength, promotes youthfulness (anti-aging)
SOD (as Rosa Roxburghii Extract) – has high anti-oxidant protection, reduces heavy metal burden, boosts immunity, reduces fatigue and anti-aging
D-Biotin – promotes beautiful hair, flawless skin and contributes to the proper functioning of the nervous system and psyche
Velovita Uüth Order
Experience your more beautiful and radiant YOU
Order Uüth Now
Velovita Plôs Thermo Ingredients
Plôs contains these ingredients to lose weight, reduce your appetite and enjoy a healthy way to feel better and more confident.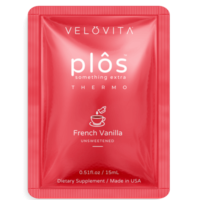 Medium Chain Triglycerides – helps with depression, helps with memory, improves feelings of mental and physical fatigue, promotes blood circulation
L-Carnitine – improves athletic performance, promotes weight loss, relieves muscle pain, promotes faster recovery, improves circulation, affects sperm count and quality in men, promotes memory improvement, improves brain capacity, improves insulin sensitivity
CLA (Conjugated Linoleic Acid) – speeds up metabolism, improves muscle growth, has a beneficial effect on blood cholesterol levels, strengthens the immune system
Garcinia Cambogia Extract – helps regulate weight, reduces appetite, prevents fat storage, promotes calorie burning, positively affects blood cholesterol levels,
Acetyl-L-Carnitine HCl – burns excess fat, reduces depression, promotes proper brain function, regulates blood pressure and lowers cholesterol.
Synephrine HCl – increases energy levels during exercise, effectively burns fat and reduces weight, reduces appetite, prevents diabetes, improves digestion, improves mood and energy
Alpha Yohimbine – helps burn fat especially in areas such as the abdomen, buttocks and thighs, increases energy, promotes weight loss, improves blood circulation, improves athletic performance, relieves depression, improves memory
Chromium Picolinate – has a beneficial effect on cholesterol levels, prevents cardiovascular disease, stimulates insulin production and is involved in fat and carbohydrate metabolism. It combats fatigue and helps regulate appetite.
Velovita Plôs Order
Safe way to control your appetite and conquer craving
Order Plôs Now
Other Velovita Ingredients
To make the composition complete, we bring a list of the remaining ingredients that are used in the products. In the product card of the product you will find the exact information about the ingredients used
Citric Acid, e-Polylysine (preservative), Erythritol, Gellan Gum, Gum Acacia, Malic Acid, e-Polylysine (preservative), Natural Flavors, Organic Agave, Preservatives (Sorbic Acid), Purified Water, Rebaudioside A (Stevia Extract), Rebaudioside M (Stevia Extract), Sea Salt, Sunflower Lecithin, Xanthan Gum,
Velovita Snaps Ingredients
The special packaging in which the product itself is stored contains the following ingredients.
Velovita Side Effects
Although no side effects of the products have yet been observed, you should be cautious when taking them. In case of experiencing any discomfort, it would be advisable to stop taking the products
To avoid unnecessary complications, it is advisable to drink plenty of fluids. Clear water is recommended. In the case of Brān , it is advisable not to combine it with large amounts of coffee. Too much caffeine may not work well.
Order Velovita Products
As you can see, Velovita products have a really impressive composition. You can see their effectiveness for yourself with a simple and quick order, which is covered by a money-back guarantee.
With your order, you can get great really unique products and the chance to get involved in an business opportunity that is starting to spread around the world. Secure your position and start earning money today.
Get Velovita products 25% off
Get 25% Off With Velovita Coupon Code. If you email us now, you will receive a coupon code for Velovita discount.