Probably the most common question we get is about how can Zlēm help lose weight? The topic of weight loss is very widespread. At the beginning, we need to understand some important factors that help people with weight loss.
Most people who talk about weight loss actually have a fat loss in the first place. Another aspect is to look and feel better, be healthier and have more energy.
When your body is not optimized for fat burning, it is very difficult to get rid of excess body fat.
Zlēm is a product that is supposed to help solve key weight loss problems and maintain a healthy weight. The amazing thing about it is that fat burning works during your sleep.
Understanding of weight loss
Many factors affect your weight. The most common are stress, overeating, low physical activity, an unbalanced and fast diet and much more.
Active and hectic life in today's hectic world can bring a lot of stress, which significantly limits the ability of our body to burn fat. If we add a little or rather poor sleep, the body itself is exposed to great stress and retains fat to protect itself.
Velovita Zlēm: Sleep and slims have been formulated with all these aspects of life in mind
It is clinically proven that a specialized key ingredient provides your body with a fat burning signal that usually comes from strict exercise.
In other words, Zlēm snaps helps your body burn fat, especially during sleep.
How can Zlēm help lose weight?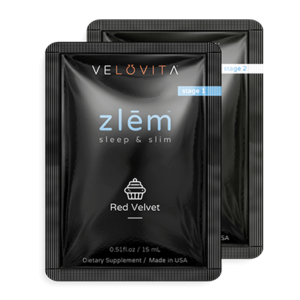 In today's environment, it can be incredibly difficult for your body to adjust its fat so that it can burn fat effectively. One of the biggest reasons is lack of sleep. This can be related to lack of energy, weight gain, insufficient concentration, and productivity, even inflammation in the body.
Good sleep is also crucial for the body's ability to repair and maintain a strong immune system.
Zlēm is formulated so that your body gets into a position where you can get a deep and restful sleep. In this condition, your body can significantly reduce stress, making you feel lighter and rejuvenating. The best thing about Zlēm is that it helps burn excess body fat during sleep.
You can be sure that with Zlēm, your sleep will be calmer, during which your body will get rid of unwanted body fat. Finally, you can enjoy a good night's sleep and a rejuvenated morning. Can Zlēm help lose weight? Yes, he certainly can. However, it should be borne in mind that every different body and not every consumer will have the same results.
For more information on how Zlēm affects body fat burning, visit the product page.
Is sleep essential for weight loss?
In recent years, the quality and intensity of sleep has decreased significantly. Thanks to this trend, many researchers hypothesized that limited sleep and low quality sleep can lead to various metabolic disorders. This can lead to weight gain and an increased risk of obesity.
Existing research points to the fact that sleep has an impact on body weight.
Zlēm and its some of the effects of the ingredients
Ginger root extract: Helps reduce weight and indigestion
Hop extract: Helps eliminate anxiety disorders
Beets: Helps with indigestion and blood pressure
Green Tea Extract: Removes toxins from the body
Papaya Extract: Helps improve digestion
GABA: Helps relieve stress
Apple Cider: Helps maintain optimal body weight
Calcium AAC: Useful for healthy and strong bones
Vitamin B3: Improves cholesterol levels in the body
When should you take Zlēm?
The manufacturer recommends using one snap once a day. Stage 1 should be used for the first 7 days and use the rest (18 snaps) until the pack runs out. If you want to use other packages, you can. However, follow the procedure of challenging Stage 1 first and then Stage 2.
For best results, take 30 minutes prior to bedtime
Pros
You will get a good night's sleep. Your wounds will be fresher
The product restores the balance of your life
Helps reduce stress
Reduces anxiety
Helps to lose weight
It improves your immune system
Natural ingredients are used in this product
If you recommend any 3 customers, you have the opportunity to get one Zlēm for free.
Cons
It can be more expensive for international customers
Zlēm weight loss reviews:
We have searched over the internet, and we have received a good response from the customers.
Connie B Said,
"My sleep was more restful after taking this product. It gives me energy throughout the day."
Ron C Said,
"I can comfortably sleep after taking this product. It provides me relaxation throughout the night."
Mary A Said,
"Gives rejuvenating effect on the body and helpful in weight loss."
Zlēm side effects
So far, no one has reported any side effect, so the product can be considered safe. In case you experience any unpleasant properties, be sure to post in our community forum.
Do snaps work for weight loss?
While we are all different and this product may affect everyone differently, it is obvious that it will help you in achieving your weight loss goals. The best part about it is the fact that it is taken while you sleep, so you don't have to worry too much about exercising.
However, if you want to improve your results, it is advisable to include more exercise in your daily routine and of course, a healthier and balanced diet.
Notice
To purchase Zlēm products, click here. Remember that if you sign up for a monthly V-Fill shipment, you can always save 10% to 25%.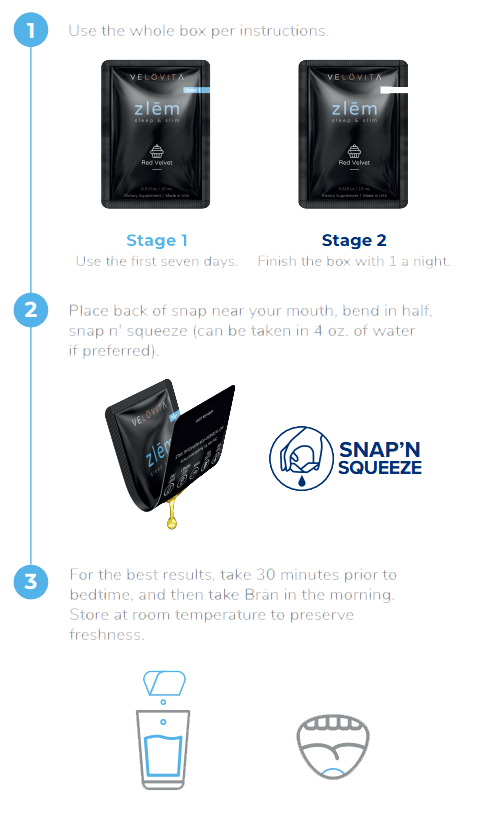 Velovita Zlēm Order
Restful sleep while your body gets rid of unwanted body fat
Fall Asleep Faster & Loss Weight
Order Zlēm Now