At Zinzino, we know what kids like. As a result, the spectacular BalanceOil Tutti Frutti comes with a revitalizing fresh flavor and no traces of fishy taste. This genius product combines the remarkable health benefits of our revolutionary extra virgin olive oil and natural fish oil to keep your child's Omega-3 levels in perfect balance.
The luscious Tutti Frutti flavor keeps your young one hooked on this life-changing product and its allergy-friendly and easy-to-swallow formula. By adhering to the recommended dosage recommendations, your kid will enjoy restored fatty acid balance and improved brain, eye, and immune function.
What is BalanceOil Tutti Frutti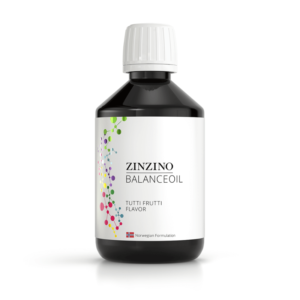 Zinzino BalanceOil Tutti Frutti adds life to your child's formative years and offers an endless supply of essential fatty acids to boost normal growth and development. Due to the high levels of DHA Omega-3 fatty acids, your kids will enjoy enhanced brain development and function, preparing them for a bright future.
This innovative product borrows healthy natural fish oils from sardine, mackerel, and anchovy fish and combines that with tocopherol-rich extract, vitamin D3, Tutti Frutti flavor, and extra virgin olive oil. For a special unique touch, the supplement taps its extra virgin olive oil from the unique Spanish Picual olive known for its high concentration of Omega-9 and richness in antioxidants.
By incorporating the Zinzino Balance Oil Tutti Frutti into your child's diet, you will become a happy parent who won't have to rush to the doctor now and then. Your young champion will enjoy more robust bones, better vision, and optimal Omega-6:3 levels, improving their overall health status.
Even though most kids tend to be very fragile and susceptible to diseases like colds and fevers, your child will stand out with a highly functional immune system and enhanced growth. Invest in your child's future and give them the childhood they deserve with this outstanding supplement!
Natural ingredients of Tutti Frutti
Natural triglyceride fish oil
BalanceOil Tutti Frutti is a pure and fresh source of the omega-3s, delivered in the triglyceride molecular form – the form naturally found in fish, and the form your body most easily absorbs
Cold-pressed extra virgin olive oil
The olives are of pre-harvest quality and in the process the stones are taken out and only the fruits are cold pressed, resulting in an extra virgin oil, rich in Omega-9 (Oleic acid) with very high content of antioxidants called polyphenols (above 750 mg/kg). The polyphenols protect the BalanceOil Tutti Frutti in the bottle but even more importantly, also your cells,
Natural Vitamin D3 from lanolin
BalanceOil Tutti Frutti contains vitamin D3 (cholecalciferol). We use a natural vitamin D3 made from lanolin, a naturally occurring fat found in sheep's wool. The vitamin D3 is made by dissolving a precursor to vitamin D3 from the lanolin. It is then chemically altered and activated by exposure to ultraviolet (UV) light. The chemical process is comparable to the process which occurs in the human skin when it produces vitamin D3 from sunlight exposure.
Key benefits of taking BalanceOil Tutti Frutti for children:
Contributes to the normal growth and development of children -being an essential source of fatty acids;
Contributes to the normal functioning of children's immune system – contains 8.3 µg of vitamin D3 (160% of RDA);
Contributes to the normal function of the brain and visual system (contains 285 mg of DHA);
Contributes to normal bone growth and development – the daily dose contains 8.3 µg of vitamin D3.
Recommended daily Dosage of Zinzino BalanceOil Tutti Frutti
Age 2–10 years (or up to 40 kg): 0.20 ml per kilo body weight.
Example: A child who weighs 25 kg takes 5 ml daily.
Age 11+ and adults: 0.15 ml per kilo body weight.
Example Adults who weigh 80 kg takes 12 ml daily. Do not exceed recommended daily dose. Food supplements are not intended as a substitute for a balanced and varied diet and healthy lifestyle
Storage
Store unopened bottles in a dark dry place at room temperature or in a refrigerator. Store opened bottles in a refrigerator and use within 45 days. The oil may become cloudy at temperatures lower than 4 °C due to the solidification of the olive oil. The oil will clear at room temperature. Keep out of reach of children.
Ingredients
Fish oils (from anchovy, mackerel, sardine), extra virgin olive oil, tocopherol-rich extract (antioxidants), Tutti Frutti flavor, vitamin D3 (cholecalciferol).
GMO-FREE: Our products are GMO-free (i.e. free of genetically modified organisms).