Zinzino ZinoBiotic
Best Natural Dietary Fibers Supporting Friendly Bacteria Growth
Healthy Gut Is Essential For a Healthy Body *


What is Zinzino ZinoBiotic Fiber
Zinzino ZinoBiotic is a tailor-made mix of five best natural dietary fiber sources. These natural dietary fibers are metabolized in the colon (the large intestine) where they support the growth of healthy bacteria. ZinoBiotic helps decrease blood sugar spikes after taking meals and maintains good cholesterol levels *. The fiber rich foods promote healthy bowel features, including a satisfying feeling and less bloated feeling *.
Other products normally only contain one or two fibers, a strategy that's not sufficient for your regular needs. Zinzino ZinoBiotic contains a significant amount of 5 dietary fibers. This approach ensures that there're advantages for the whole colon. Digestion resistant starch, inulin, beta glucan from oat, fructooligosaccharide (FOS) and psyllium husk are fermented in the colon and aimed at several bowel functions. For example, the resistant starch will contribute to the reduction of the otherwise normal rise of blood sugar after meals *. ZinoBiotic from Zinzino belongs to the fiber rich food.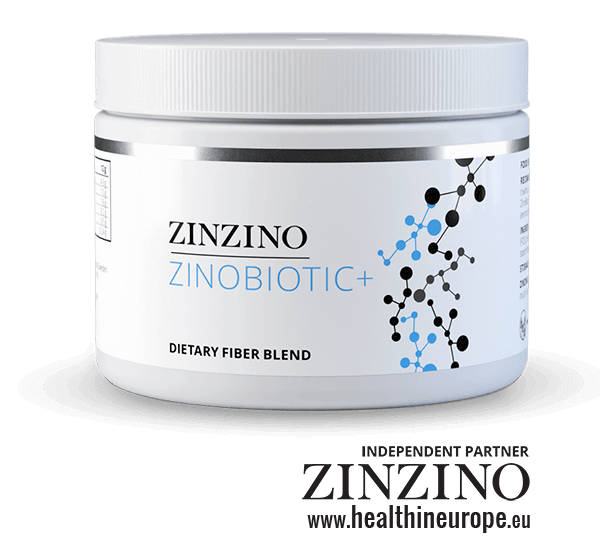 We should increase our daily natural dietary fiber intake and add fiber rich foods to our meals. ZinoBiotic provides a blend of dietary fibers that serve as fuel for the beneficial bacteria in our colon so that they grow and replace unwanted bacteria*. Additionally, they maintains balanced cholesterol levels healthy gut.

Best Natural Dietary Fiber Benefits
The Fibers:
Zinobiotic is a concentrated blend of five natural dietary fibers: digestion resistant starch from whole grains, inulin from chicory root, beta glucan from oat, and fructo-oligosaccharide (FOS) also from chicory root and psyllium husk. Exactly the same all natural dietary fibers is added in the LeanShake, thus providing you with two different ways of getting healthy fiber into your diet. *

Gut Health:
Zinzino ZinoBiotic stimulate the development of helpful bacteria in the colon *. There're more than one hundred trillion in the human gut and while a few are helpful for health, others are less desirable. The helpful bacteria use dietary fibers as their fuel so that they can eliminate less desirable bacteria. The helpful bacteria participate in too many crucial body features, such as the organization of the immune system *. They're also connected to a better mood, endurance and health in general *. Healthy intestines are vital for a healthy human body. ZinoBiotic from Zinzino belongs to the fiber rich food which are essential for a healthy body.
Zinzino ZinoBiotic Dietary Fiber Supplements Facts
ZinoBiotic Ingredients:
Resistant starch (from whole grains), Beta glucan (from oat), Inulin, Fructooligosaccharides, Psyllium (husk powder), Bulking agent (xanthan gum E415), Anti-caking agent (tricalsium phos-phate E341), Natural sweetener (steviol glycosides E960)

Dietary Fiber Suggested Use:

Mix 6 g (1 scoop) powder with 50-100 ml water in a shaker bottle, or mix with a drink of your choice (e.g. water or juice in a shaker).
If you mix Zinobiotic with LeanShake or a smoothie, add extra fluid according to taste.
The product can be used 1-2 times per day according or to your needs.

Storage:
Store product dry and cool with the lid on

Notice:
This product should not be used by children under the age of four years or women who are pregnant or nursing or persons with eating disorders. Persons with medical conditions should not use this product without consulting a physician
The Best Sources Of Dietary Fiber
Fiber is incredibly important. It leaves your stomach undigested and ends up in your colon, where it feeds friendly gut bacteria, leading to various health benefits. Certain types of fiber may also promote weight loss, lower blood sugar levels and fight constipation.
The fibers in ZinoBiotic stimulate the growth of beneficial bacteria throughout your colon. The beneficial bacteria use dietary fibers as their fuel, enabling them to outgrow. They contribute to many important body functions, such as educating our immune system. They are also linked to better moods, stamina and health in general. Here are some good sources of fiber.
| Fiber Source | Serving Size | Grams per serving |
| --- | --- | --- |
| Apple w/skin | 1 medium | 3.7 |
| Blueberries (raw) | 1 cup | 4.0 |
| Pear | 1 medium | 4.0 |
| Prunes (dried) | 10prunes | 6 |
| Raspberries | 1cup | 8.4 |
| Pinto beans, boiled | 1cup | 14.7 |
| Baked beans | 1 cup | 14 |